Livingstone Project (Gold) – 75% MBK
Advanced gold exploration project located 140km northwest of Meekatharra in WA
395 km² of granted exploration licences covering the entire western arm of the Proterozoic Bryah-Padbury Basin (host to the Fortnum, Horseshoe and Peak Hill gold deposits and >2Moz Au endowment)
A JORC 2012-compliant Inferred Resource of 40,300oz Au at the Homestead prospect with potential for expansion (refer MBK ASX Release 21/2/2023);
A JORC 2012-compliant Inferred Mineral Resource of 30,500oz2 Au @ 1.42g/t at the Kingsley prospect, open at depth and along strike in both directions, supporting an additional Exploration Target of 290-400Kt @ 1.8-2.0 g/t Au for 16,800 – 25,700oz Au  (refer MBK ASX Release 18/01/2022);
The Livingstone prospect with extensive Au-in soil anomaly, historical mining activities, historical high-grade drilling intersections and recent results up to 6m @ 6.26g/t Au from 21m (LN22RC014)
Multiple advanced gold targets, inadequately tested to date including Hilltop, Stanley, Winja, Winja West, VHF and Kirba (Ni); and
10+ regional greenfields targets identified by independent experts with 40km prospective strike length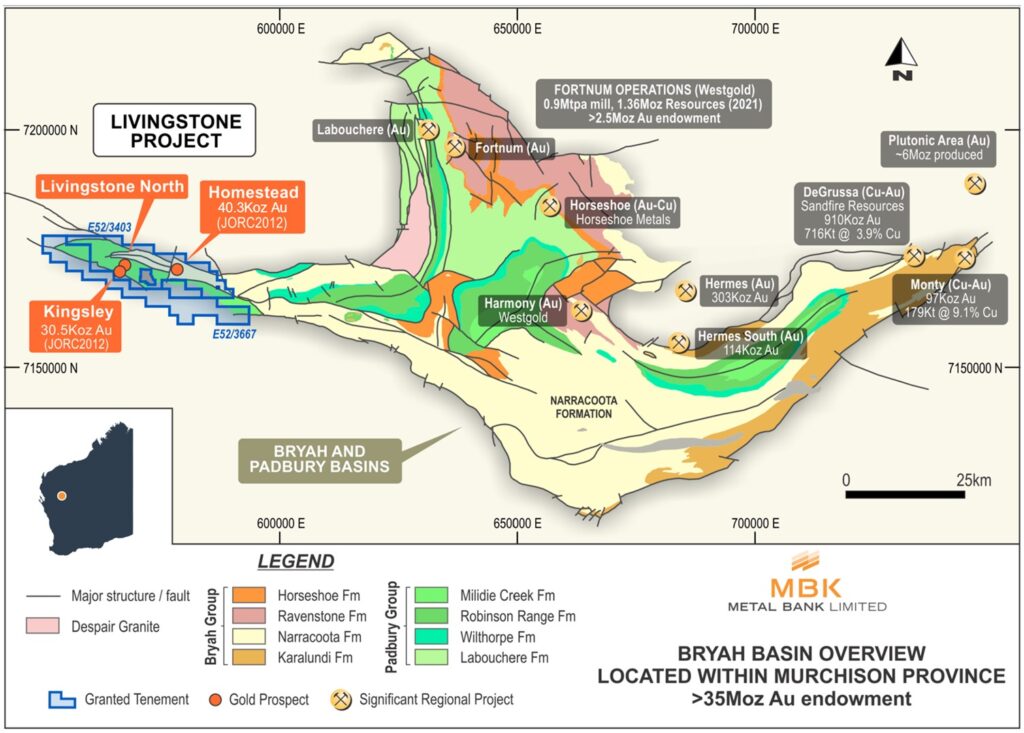 Livingstone location map
Gold mineralisation at Livingstone is of 'orogenic' or mesothermal structurally-controlled vein Au style, related to a set of late quartz-carbonate-sericite-pyrite veinlets that have developed in reactivated older steeply-dipping deformed quartz veins striking ~110° (with associated splays and intersections) within a mafic to ultramafic schist or 'talcose' schist host. The regional also includes a number of quartzite, banded iron formations, and mafic to ultramafic bodies.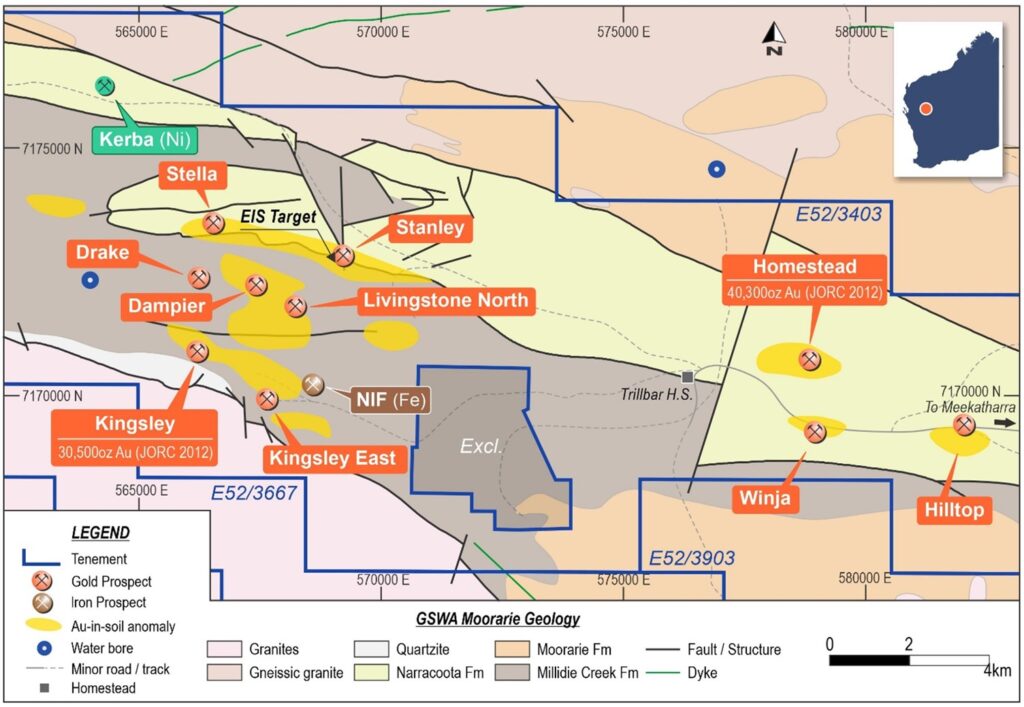 Livingstone main prospects map
Homestead Gold Resource
The Homestead deposit located ~10km east of the main Livingstone Project area was previously discovered and drilled by Talisman Mining, reporting a JORC 2004 Inferred Resource of 49.9Koz Au (refer 070301_HC_TR_BoundaryResourceEstimate_R2004 – Talisman Mining Ltd).
Work by MBK in 2022 to update and upgrade this Resource via 10 RC drill holes, re-interpretation and re-modelling resulted in a JORC 2012-compliant Mineral Resource Estimate of 880Kt @ 1.42g/t Au for 40.3Koz Au (0.5g/t Au cut-off, 75m maximum mining depth) with inclusion of Reasonable Prospects for Eventual Economic Extraction (RPEEE) (Refer MBK ASX Release 21/02/2023).
Importantly, some 83% of the Resource was converted to Indicated, the deposit remains shallow, amenable to open-cut operations and appears open at depth.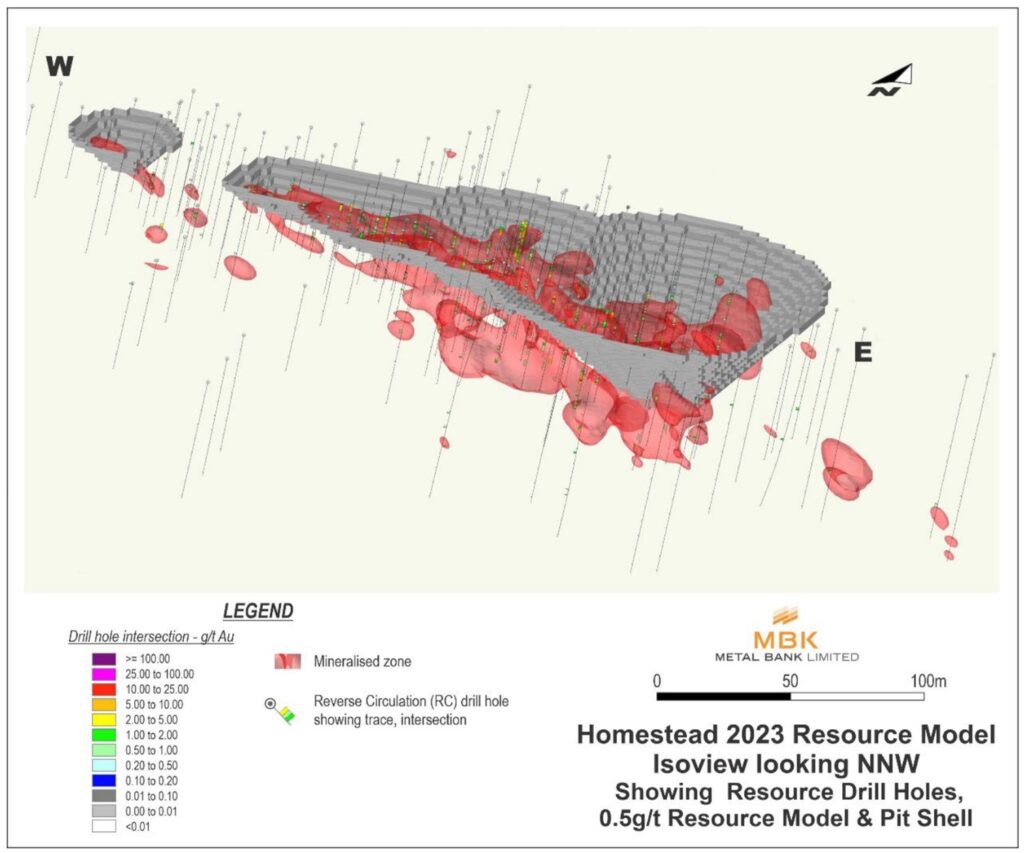 Homestead resource model isoview
The geology of the Homestead Prospect consists of variably outcropping talc-chlorite-carbonate ultramafic rocks/schists and mafic rocks/schists of the Narracoota Volcanics, as well as minor phyllites, dolomites and intermediate/felsic rocks. These basement units are covered by a thin veneer of colluvial pisolitic laterite, partly stripped laterite/saprolite, minor silcrete and calcrete, and recent alluvial cover.
The deposit is linear and strikes WNW (~280) with gold hosted in a steeply NNE-dipping system of structurally-controlled orogenic quartz/carbonate veins and shears with mineralised shoots ranging from 2 m to 15 m thick. Within these veins, mineralisation within the oxidised zone is associated with limonite replacement of pyrite and carbonate minerals. Weathering is locally depressed over the mineralisation and coincident with the dip of the mineralised lodes.
The bulk of mineralisation is shallow, between surface and 75m depth, within the oxidised and transitional zone and amenable to open pit mining. Some lateritic and supergen enrichment is present, plus a small supergene gold blanket is present in the West. Below the base of oxidation, fresh mineralisation is hosted within quartz-carbonate-chlorite-(pyrite)-(gold) assemblages, with suggestion of a moderate to strong quartz-pyrite-carbonate proximal alteration associated with the gold mineralisation, possibly within a (distal) chloritic envelope.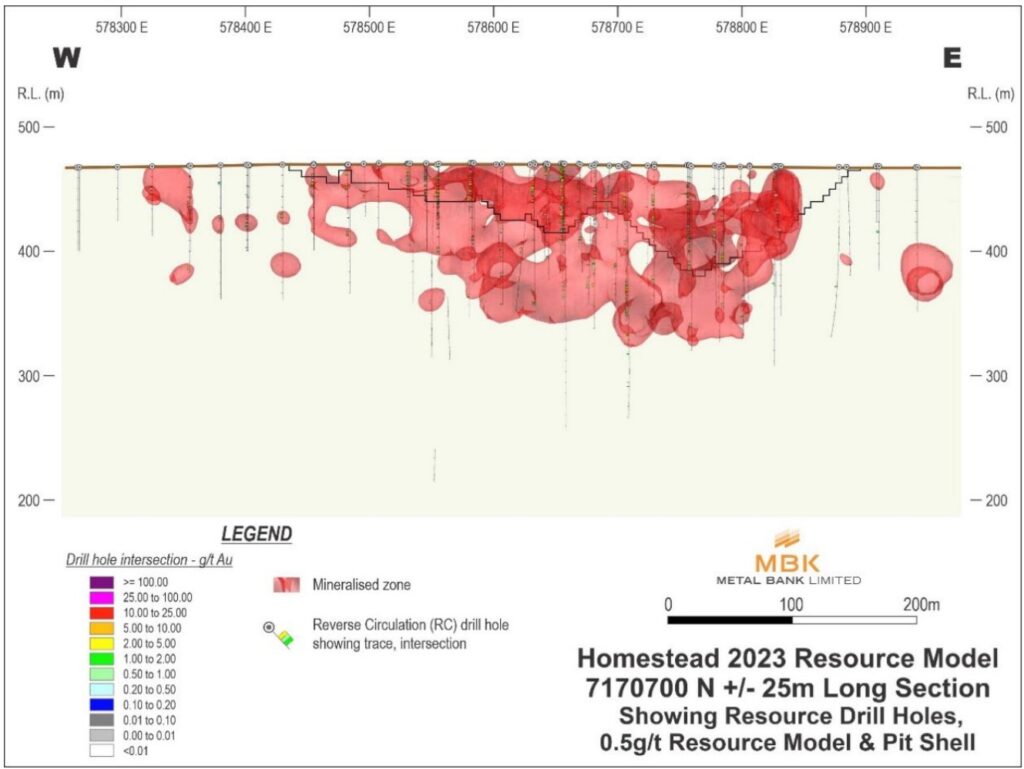 Homestead long section
Due to the shallow nature of drilling a number of down-dip extensions of mineralised shoots in the existing Mineral Resource area remain untested, representing future growth opportunity. These zones currently fall outside of pit shell modelling and the Mineral Resource Estimate, requiring further validation work to add to the Homestead gold inventory.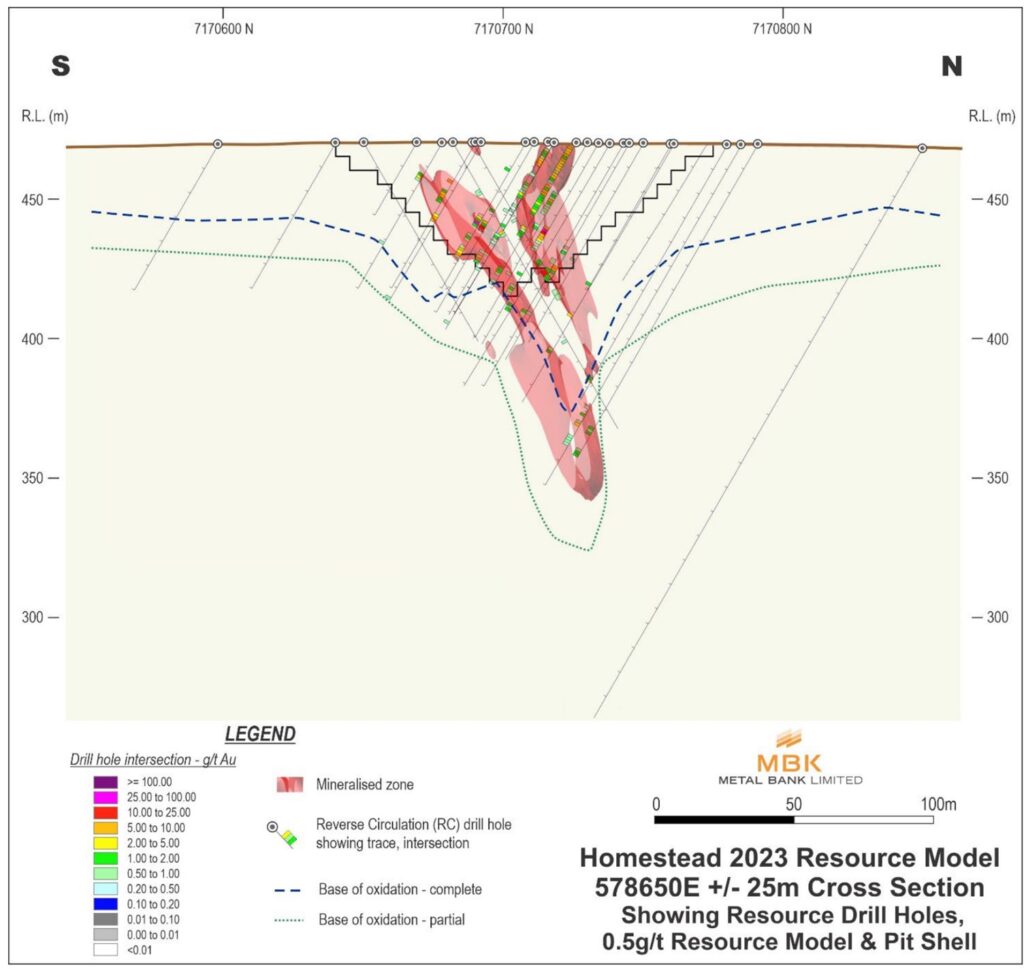 Homestead 578650E cross section
Kingsley Gold Resource and Exploration Target
The Kingsley gold deposit was discovered by Kingston Resources Ltd (KSN) in 2018 after completing aircore drilling over part of the deposit. A further 50-hole (4,390m) RC drilling program in 2020 defined zones of high-grade Au within broader zones of shallow mineralisation, with continuity over 1km strike length (refer KSN ASX Release 30/09/ 2020).
Acquisition of the Livingstone Project by MBK in December 2021 with subsequent modelling of the deposit resulted in a maiden Mineral Resource Estimate for Kingsley of 669Kt @ 1.42g/t Au for 30.5Koz Au at a 0.5g/t Au cut-off and maximum depth of 75m below surface (refer MBK ASX Release 18/01/2022).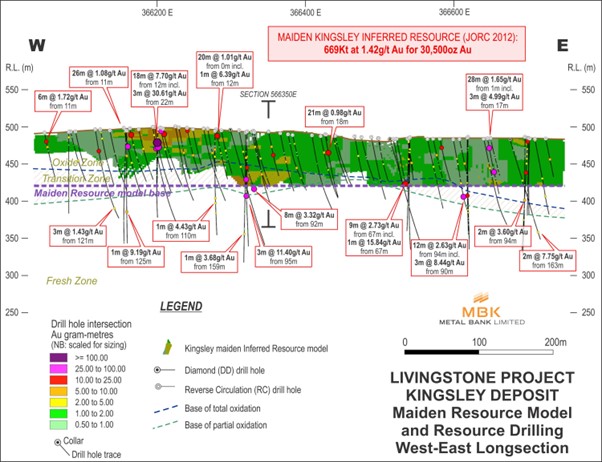 Kingsley long section showing resource block model and drilling intersections
The Kingsley Resource is steeply dipping and shallow in nature, open to the east, west and south within similar geology as the Homestead Resource. Further follow-up reverse circulation (RC) drilling by MBK in 2022 infilled this resource for increased confidence plus returned notable intersections in lateral extension drilling east and west of the Kingsley prospect, including results of:
4m @ 4.09g/t Au from 12m and 2m @ 18.5g/t Au from 54m (KE22RC005) up to 750m East of the Kingsley resource
3m @ 9.07g/t Au from 3m within 22m @ 2.62g/t Au from surface (KL22RC002) within the resource, and:
Results up to 6m @ 2.01g/t Au from 45m (KWRC001) and 3m @ 3.81g/t Au from 57m (KWRC002) west of the Kingsley Resource.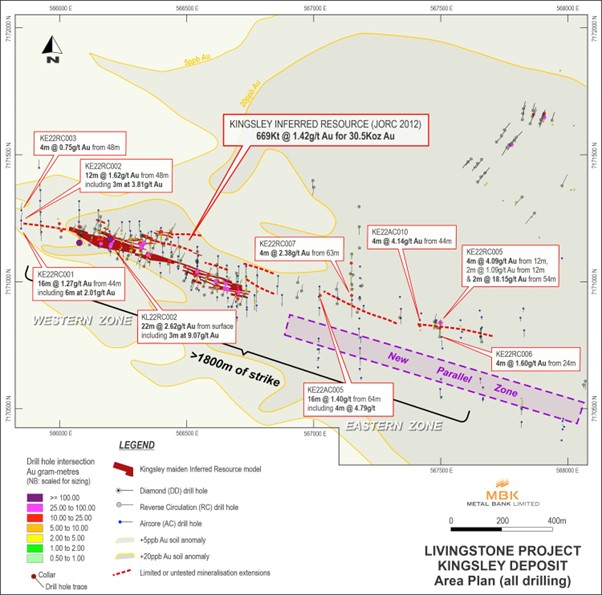 Kingsley, Kingsley East and Kingsley West drilling summary (August 2022)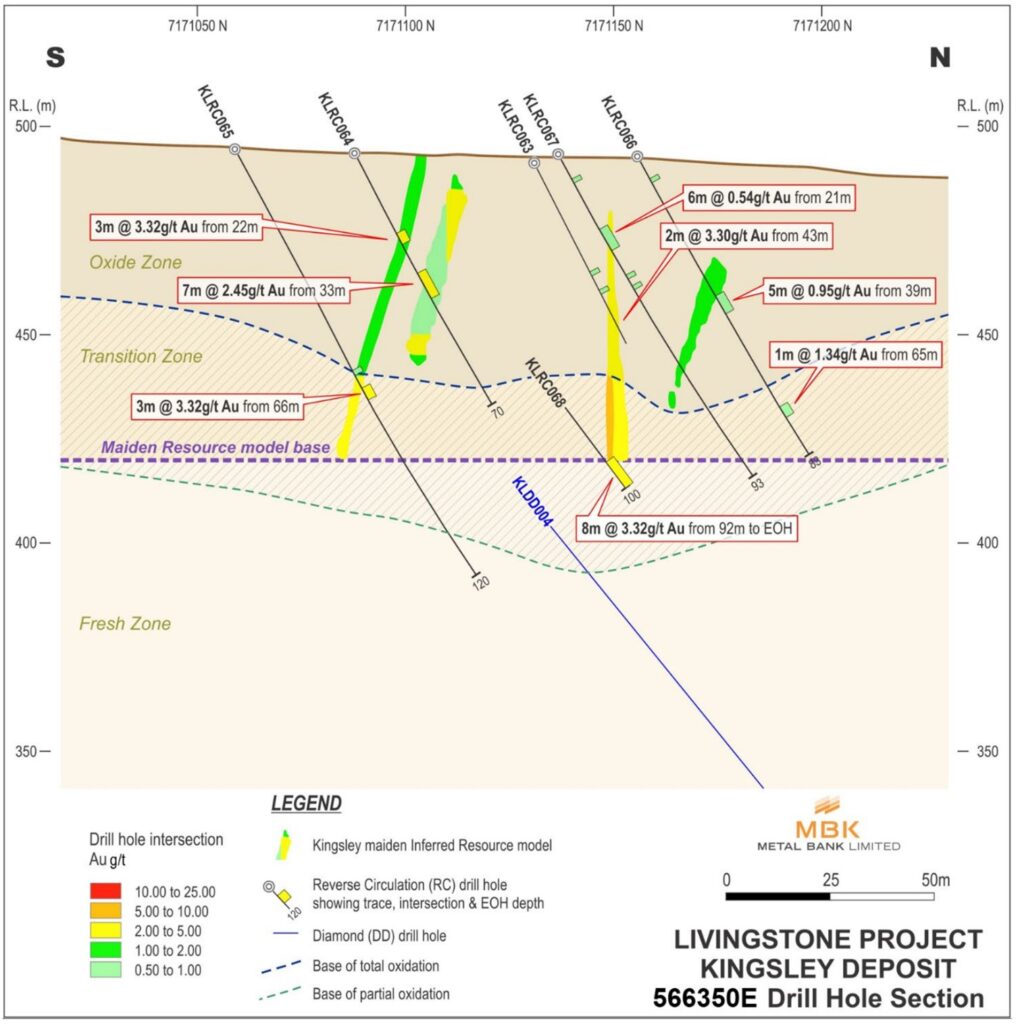 Kingsley 566350E drill cross section showing resource block model and drilling intersections
In addition, mineralised subparallel lodes were noted including 1m @ 4.09g/t Au from 24m ~30m S of KE22RC005 at Kingsley East, lending support to a larger, more structurally complex system with increased grade and tonnage potential. A second mineralised structure was also identified running subparallel to the south.
Follow-up extensional aircore (AC) drilling at Kingsley East after this program intercepted significant gold results in 9 of 10 holes at Kingsley East, including results of 4m @ 8.14g/t Au from 65m in KE22AC005 (1m re-splits of 4m @ 4.79g/t Au from 64m composite sample) and 4m @ 4.14g/t Au from 44m in KE22AC010.
In conjunction with previous drilling, 2022 Mineral Resource Estimate work, continuity of mineralisation demonstrated on multiple structures over 1km of strike to a maximum depth below surface of approximately 75m and positive metallurgical testwork in conjunction with updates economic parameters, these results provide the basis for a MBK Exploration Target at the Kingsley Prospect of an additional 290–400Kt at 1.8–2.0 g/t Au for 16,800 – 25,700oz Au refer MBK ASX Release 18/01/2022).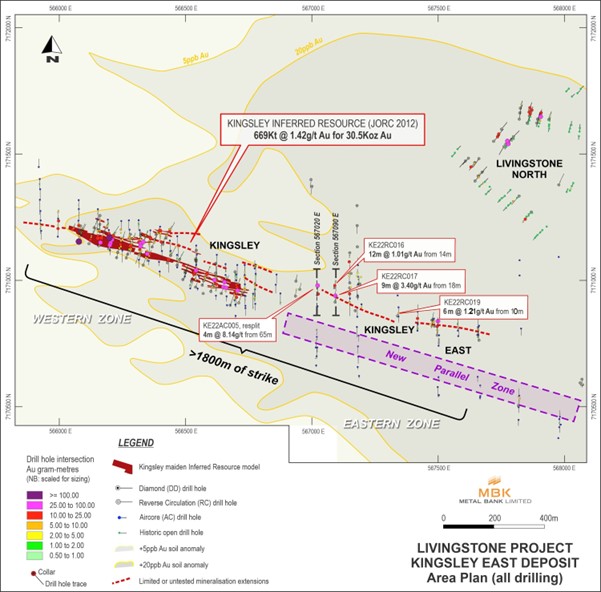 Kingsley East drilling results (November 2022)
Livingstone North Prospect
The Livingstone North prospect located 600m north-east of the Kingsley deposit is a 2 km² target area within a significant extensive Au-in-soil anomaly and chloritic hydrothermal alteration zone. The prospect includes historical mining activities and limited drilling in the 1980's with high-grade drilling intercepts. Prior to MBK work in 2022, there has been no drill testing at the Livingstone North prospect below 25m depth.
A small initial RC program at Livingstone in the latter half of 2022 identified multiple mineralised quartz veins, with drill results including:
7m @ 3.91g/t Au from 37m (LN22RC017)
6m @ 6.26g/t Au from 21m (LN22RC014)
6m @ 2.85g/t Au from 14m (LN22RC023)
2m @ 8.48g/t Au from 11m (LN22RC012)
4m @ 3.04g/t Au from 42m (LN22RC007)
1m @ 10.80g/t Au from 47m (LN22RC011)
3m @ 5.72g/t Au from 11m (LN22RC012)
4m @ 1.82g/t Au from 41m (LN22RC004) and;
6m @ 1.72g/t Au from 66m (LN22RC002)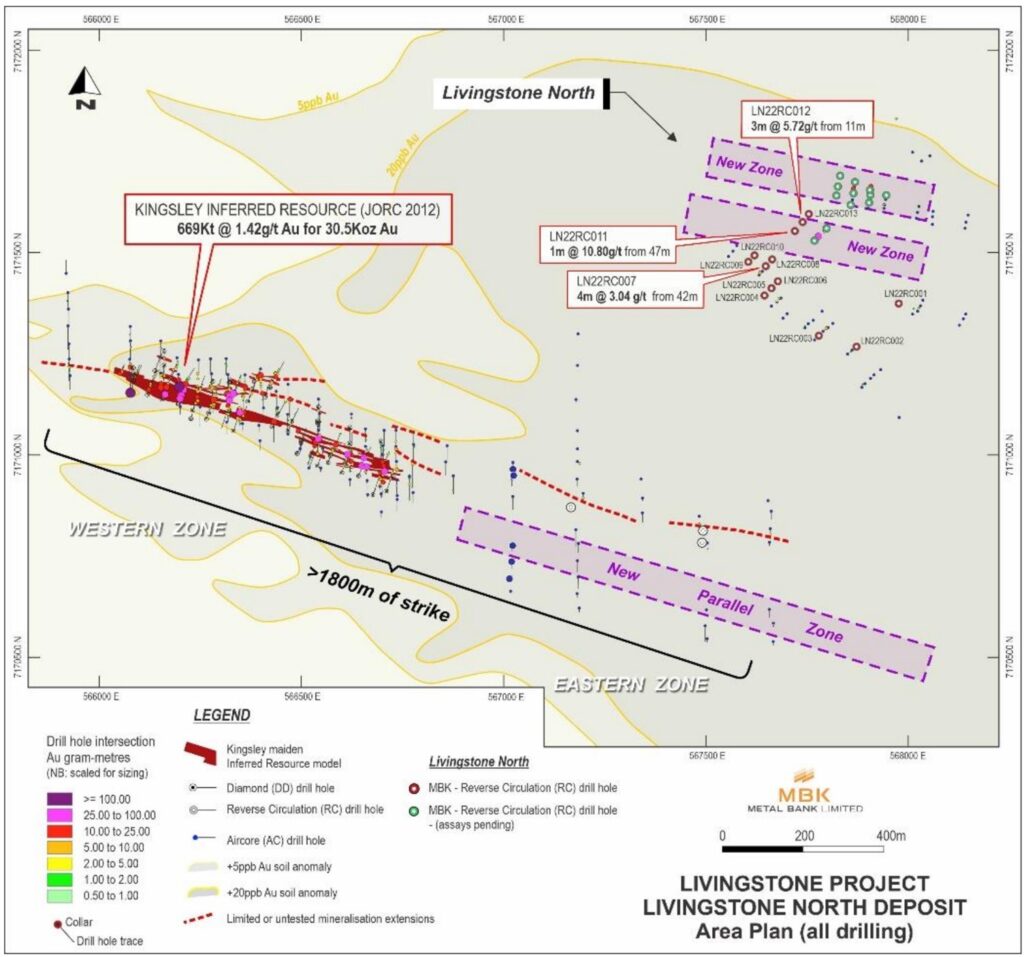 Livingstone North initial drilling assays (October 2022)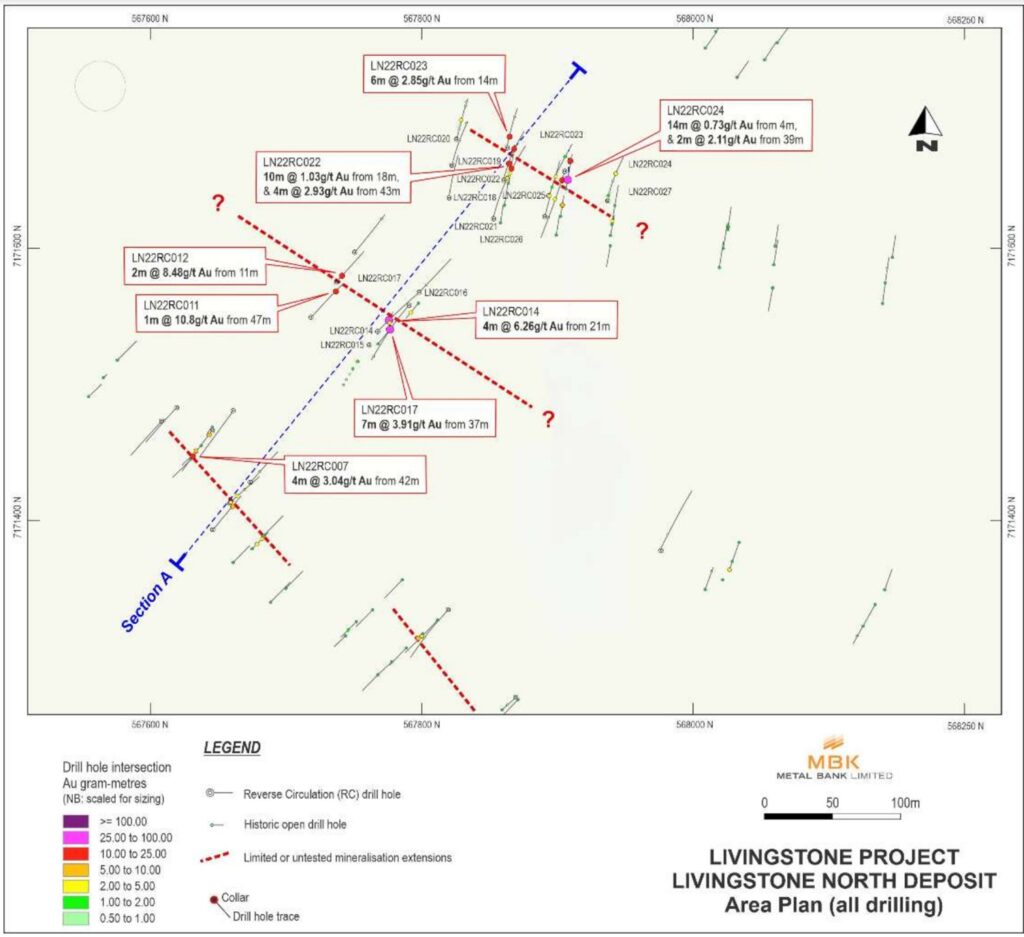 Livingstone North drilling close-up (November 2022)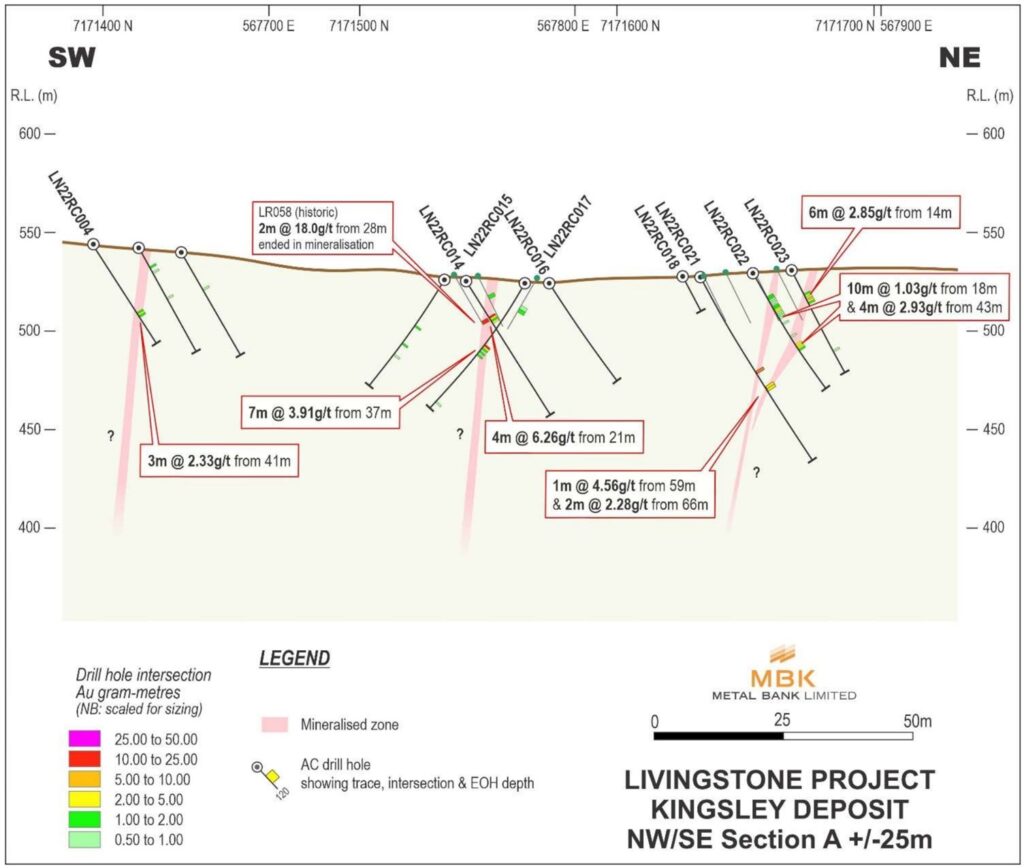 Livingstone North NW-SE section 'A' (see previous figure)
Additional Livingstone Project prospects and targets
In addition to the Kingsley, Homestead and Livingstone North prospects, the Livingstone Project includes multiple gold targets extending along 40km of strike, several Ni-rich zones associated with ultramafic units, and zones of banded iron formation. Few of the prospects have been drill tested, and a large majority of the Project area is within a large +20ppb Au in soil anomaly showing clear structural features.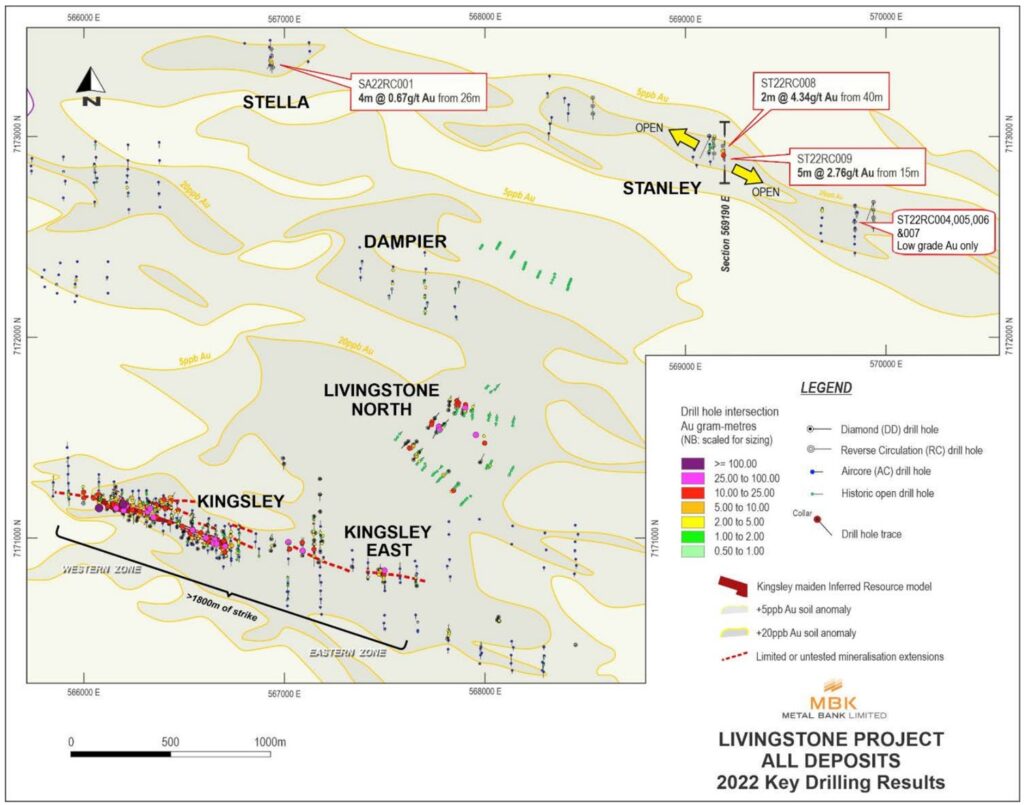 Livingstone Project regional summary of 2022 drilling and regional Au geochemistry
Results to date from Stanley include 2m @ 4.34g/t Au from 40m (ST22RC008) and 5m @ 2.76g/t Au from 15m (ST22RC009) showing a coherent zone of gold mineralisation over 150m strike and open to east and west. Preliminary drilling at Stella includes 4m @ 0.67g/t Au from 26m (SA22RD001).
Further drilling programs and exploration are currently in planning for the upcoming field season.
———————
Further information is available by clicking the following MBK ASX releases:
---
Competent Persons Statement
The information in this web page that relates to Mineral Resource Estimations and Ore Reserves was prepared and reported in accordance with the ASX Announcements and News Releases referenced in this web page.
The Company confirms that it is not aware of any new information or data that materially affects the information included in the relevant ASX announcements and News Releases. In the case of Mineral Resource estimates and Ore Reserve estimates, all material assumptions and technical parameters underpinning the estimates continue to apply and have not materially changed. The Company confirms that the form and context in which the Competent Persons' findings are presented have not been materially modified from the original ASX announcements or News Releases.
The information in this web page, that relates to MBK Exploration Results, Mineral Resources and Exploration Target statements is based on information compiled or reviewed by Mr Rhys Davies. Mr Davies is a contractor to the Company and eligible to participate in the Company's equity incentive plan. Mr Davies is a Member of The Australasian Institute of Geoscientists has sufficient experience which is relevant to the style of mineralisation and type of deposit under consideration and to the activity which he is undertaking to qualify as a Competent Person as defined in the 2012 Edition of the 'Australasian Code for Reporting of Exploration Results, Mineral Resources and Ore Reserves'. Mr Davies consents to the inclusion in this web page of the matters based on his information in the form and context in which it appears.  
It should be noted that the MBK Exploration Targets described in this web page are conceptual in nature and there is insufficient information to establish whether further exploration will result in the determination of Mineral Resources.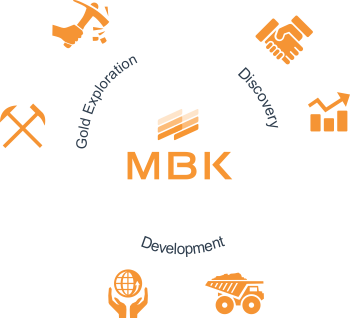 Metal Bank Limited
Tel: + 61 2 9078 7669
Address
Suite 506, Level 5
50 Clarence Street
Sydney NSW 2000
Postal:
PO Box Q128
Queen Victoria Building, NSW 1230
Email:
info@metalbank.com.au